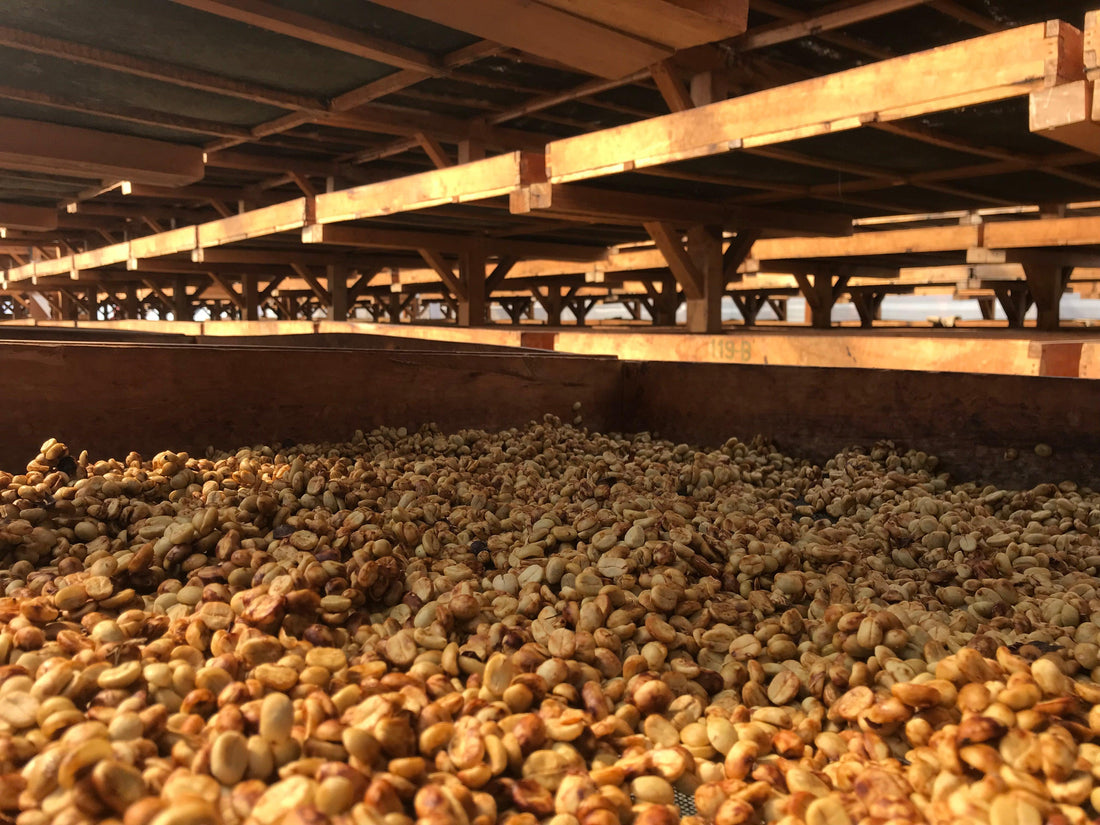 Sustainability Project at Origin
Mohamed Ali - Ethiopia
Four years ago, we have initiated a shift change in our Ethiopian Sourcing: While we previously bought from Cooperatives, we changed to direct farm relationships with the help of our local partners in Ethiopia, Belco. By working direct, we can lift up qualities at the farm level by simply slowing down the process and by focussing our coffee growers on producing higher qualities. In return, we can pay more and deliver the best coffee experience to our customers. Along the way, we establish a committed relationship which allows us to set into place sustainability projects at the farm. This is part of our DNA and it motivates us to be better. Mustafa Mohamed Ali is a second generation farmer – his father, Mohamed Ali, started the plantation next to his Koran School around 60 years ago. Both his farms in Boto and Gera are fully organic: the coffee is grown in the surrounding forests, with very little plant management and no fertilization. All his coffees are processed without the use of water. Ever since Mustafa got his license to export as a Single Estate he has invested most of his income back into the farm. However, like many farms in Ethiopia he is struggling with the unusual rain patterns and got under pressure in the drying phase. Mustafa is doing what he can to elevate the quality at and around his farm. Here is how we support him on our journey together:
We have asked our partners, Belco, to discuss with Mustafa Mohamed what he thinks needs to be done to make his two farms better and more sustainable. They came up with a three step plan that will be implemented over the next 18 months. There will be a substantial investment involved which is not something that we have available.


So how can we make this work?
WE PAY MORE FOR THE COFFEE BEANS
We have pledged to buy a higher amount of coffee beans from the farms. Coffee that will jump up in quality with the improvements we make together with Mustafa Mohamed. That allows us to pay a premium for our coffees. Our customers will be part of this project by simply buying at a higher price.
OUR PARTNERS MATCH OUR PREMIUM
Our partners at Belco have to be in the same boat with us and with Mustafa Mohamed. We asked them to match our premium payment every year. They agreed to do this.
Farm Improvements will start now
With the set of initiatives, we can elevate Mustafa Mohamed Ali to another level entirely. It will make him independent and he will produce more quality coffees to sell at a premium price. .
THREE MAIN OBJECTIVES OF IMPROVEMENT

1. QUALITY IMPROVEMENT: CHANGING DRYING TABLES TO METAL
Mustafa Mohamed Ali has been using traditional African wooden drying tables but those come with side effects: • Destruction of trees to erect drying tables every year • Difficulty to make table surfaces completely plain • Unnecessary labor for construction and removal of drying tables every season We will implement metal tables that are much better. In Ethiopia, these are quite expensive: • Will last up to 20 years • Improve the drying quality • Save time and money because they last a lifetime The farm will also get floating tanks to separate ripes from underripes. Environmental improvements will be implemented, for instance the removal of plastic and an ecological treatment of all land.
2. SOCIAL SUPPORT EMBRACING QUALITY: FOOD PROVISION TO LABORERS
Many producers, especially small ones like Mustafa Mohamed Ali, focusing on specialty coffee preparation seldom face tight competition of efficient laborers with the giants like cooperative unions and bigger aggregators during peak harvest season. Consequently they will be forced to pay extra fringes on daily wages in order to attract better laborers otherwise juniors with little coffee processing experience will be brought on board, which in turn affects coffee quality and end up incurring loss. However, providing food supplies to laborers at least once per day during peak harvest season will result the following benefits: • Enable the producer to attract senior and more efficient laborers • The time laborers travel to and from home for lunch will be saved • Motivated laborers will focus more and coffee quality will be improved • Families of laborers will not bother for their lunch
3. CANOPY MANAGEMENT: EXPANDING INDIGENOUS SHADE TREES
It is well known that coffee grown in the forest and semi-forest areas under shade have a lot of distinguishable characteristics compared to the one growing without shade. The shade canopies help coffee to mature slowly minimizing the heat and wind density, control growth of weeds which shelter insects attacking coffee, dead leaves and trunks converted to natural fertilizer, make the flavor more complex due to the cohesion between various flora and coffee plants, use as shelter for different animals and insects maintaining bio-diversity, etc. For instance, the seed of one famous multifunctional shade known as Qararo (Pouteria adolfifriederici) is planted. This tree has among other things these properties: • It is a large forest tree that has no branches on its lower half • Leaves that fertilize and soften the ground, all while regulating weed growth • The tree acts as a food source for nearby animal species • It provides shade for other plants and workers
A BIG THANK YOU !
We are proud that Mustafa Mohamed Ali is teaming up with Belco and us to make a massive jump here. Our projects will not only benefit the environment and the coffee quality but also the life of his workers and the future of his two farms. We love the fact that all of us, you included, are involved in making a real change here. We want to thank you for making this possible.