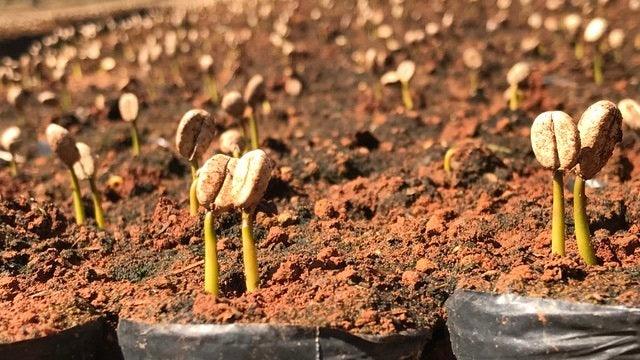 Our Plot: A Sustainable Coffee Future
Four years ago, innovative producer Daterra invited us to take ownership of 1 hectare of their estate. 'Our Plot' is a programme initiated to develop ideas that will elevate coffee production techniques and help meet the challenges posed by climate change. Our goal is to develop the best Honey and Anaerobic processing style for the rare Aramosa varietal. As one of only six coffee roasters worldwide invited by Daterra to join them in their mission, we cannot wait for you to taste the results.
A Shared Vision
Daterra was created with a dream to reinvent coffee production in brazil: focusing on quality, innovation, and sustainability. With over half of their estate remaining preserved land dedicated to the protection of local biodiversity, they were natural partners as we look to mitigate our own impact on the environment. In Earth Month 2021 we began our initiative to plant 40,000 trees and create our very own forest in Brazil! Find out about our tree planting initiative and plant a tree today.
PLANT A TREE TODAY
Collaboration and Experimentation
From rare low caffeine varietals to exclusive masterpiece lots, we have worked together to bring you Daterra's incredible coffee for many seasons. Our Plot is our most important collaboration yet, as we seek to evaluate the influence of different types of fermentation and processing on cup quality. In the face of a changing climate and changing coffee growing conditions, processing has an increasing role to play in maintaining consistent quality. This year, we will release two lots, utilising Black Honey and Anaerobic processes.
18°44'56.64"S 46°59'15.10"W
At Daterra, traceability and quality is paramount: those are the coordinates of Our Plot on their estate! Here they have allocated one hectare of land planted with the Aramosa variety - a hybrid cross of coffea Arabica and the naturally low caffeine coffea Racemosa - to this unique project. Using Honey and Anaerobic fermentation, Daterra will process this experimental lot which we will roast and analyse here in Berlin. With these two methods, Daterra will look to perfectly harness the flavour possibilities that fermentation presents.
BUY OUR PLOT BLACK HONEY
Experiments in Processing
As soon as ripe coffee cherries are picked, sugars and acids present in the fruit begin to ferment. Through the "Our Plot" project we are looking to harness this fermentation in the best possible way: creating beautiful flavour and reliable consistency. Using the coffee from Our Plot, we experimented with 9 different processing treatments: Natural, Red Honey, Black Honey, and Anaerobic, with different fermentation times. In sensory judging, the two coffees that came out of top were the 96 Hour Anaerobic and 72 Hour Black Honey: clear evidence of the benefit of processing coffee with these methods.
Time to Taste
The journey from the soil of Daterra to the roastery here in Berlin is now complete! With these demanding and time-consuming processing methods, we could not wait to share the results. Both styles have consistently shown that processing can enhance cup quality and consistency, offering new possibilities for the best possible flavour experience. Available now, Our Plot Black Honey has an intensely bright and sweet profile, reminiscent of strawberry candy and delicate frangipane: with a roast profile that magnifies the flavour Daterra have extracted from the terroir, varietal, and processing.
Sign up to our newsletter and be the first to know when Our Plot Anaerobic is released.
SIGN UP TO OUR NEWSLETTER